Register
Thanksgiving Hitting Camp
$ 50.00
There's a lot that goes into becoming a good hitter, and as a young athlete it can easily be overwhelming. Break it down over two days with Coach Cook over Thanksgiving Break—we'll work on a different set of drills each day and, as always, front toss and live pitching will be included with each session!
For baseball and softball players; all ages and skill levels welcome.
When: November 22nd & 23rd; 10:00am-12:00pm
Who will be there?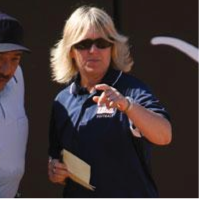 Lori Cook
Founder/Lead Instructor
Former Division I Head Coach
Read Bio »
Customer Reviews
"All the coaches there are awesome. I love it when the session is done that they don't try to rush you out they will stay and talk to you about any questions or concerns that you or your daughter have. My daughter loves it there. Thanks Coach Cook."
— Veronica Obregon Torres on March 13, 2017
"My daughter has really enjoyed the lessons here!! I really like how they they challenge the girls to become the expert on their swing!"
— Jason McGhee on March 12, 2017
"My daughter had a great time and learned so much!"
— Marcella Chaires on March 5, 2017
"My daughter loved her first time there, and she can't wait to go back."
— Roger Santos on December 8, 2016
"Great place for some one-on-one instruction no matter how good you are or think you are. Coach Cook, Courtney and selected guests break down hitting to any level. Many times you may be teaching the same stuff but it sinks in better when you hear it from someone else. Great system."
— Robert Wiles on December 23, 2016