10:00 – 2:30
$ 80.00
limited spots
Register
Thanksgiving Clinic
$ 80.00
Coach Cook's annual Thanksgiving All-Skills Clinic is right around the corner!
Work with current and former college baseball and softball players. We'll have fun covering hitting, fielding mechanics and speed and agility drills. Drop your kids off and get your holiday shopping done!
Players will be grouped by sport, age and skill level.
Early Registration: $80 ends November 17
Standard Registration: $95
Bring a friend and you'll each save $10!1
The earlier you register, the more chances you have to win one of our Thanksgiving Giveaways! 
When:
Saturday, November 25, 2023
10:00am–2:30pm
1 Attendees must register online together to receive our bring-a-friend discount. Discount is automatically reflected in registration price.
2 Campers need to bring their own lunch.

Who will be there?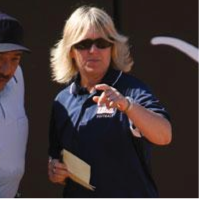 Lori Cook
Founder/Lead Instructor
Former Division I Head Coach
Read Bio »
Customer Reviews
"All the coaches there are awesome. I love it when the session is done that they don't try to rush you out they will stay and talk to you about any questions or concerns that you or your daughter have. My daughter loves it there. Thanks Coach Cook."
— Veronica Obregon Torres on March 13, 2017
"My daughter has really enjoyed the lessons here!! I really like how they they challenge the girls to become the expert on their swing!"
— Jason McGhee on March 12, 2017
"My daughter had a great time and learned so much!"
— Marcella Chaires on March 5, 2017
"My daughter loved her first time there, and she can't wait to go back."
— Roger Santos on December 8, 2016
"Great place for some one-on-one instruction no matter how good you are or think you are. Coach Cook, Courtney and selected guests break down hitting to any level. Many times you may be teaching the same stuff but it sinks in better when you hear it from someone else. Great system."
— Robert Wiles on December 23, 2016